I know there haven't been any updated for quite a while, I hope to be able to catch up soon, otherwise check out my social media profiles for the latest pictures and news (see
"About" section
).
And here are the news: There will be a calendar for next year again!
And it will contain a few unpublished images, which I'm going to officially publish in the upcoming weeks.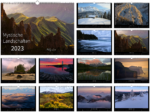 If you are interested and have not yet a new wall calendar for next year or you're already looking for Christmas gifts go ahead and drop me a message or write me an e-Mail at kontakt(at)philipp-lutz.net.
The calendar is going to be available as matte print on premium paper in A3 format.
It will be 20€ for the calendar + 4€ shipping (DE). If you live outside of Germany just ask me for the shipping costs.