This is a continuation of my " Sirui tripod repairs" series: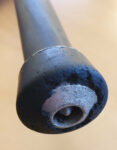 At the beginning of 2021 I realized that my lower leg segments have almost lost all their grippy rubber cover and only the aluminum structure was left, see the following image.
This is especially a problem when working on very hard and smooth surfaces, there will be always a lack of grip when placing the tripod legs.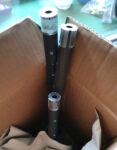 I was once again getting in touch with the Sirui Europe service and send this image to show the problem. I got an answer the next day saying that they are going to send me replacements for the lower leg segments, containing the rubber. They were only asking for the purchase receipt. Then I had to wait almost 3 months until the parts were delivered to me free of charge, because the parts were not on stock anywhere.
Either they were screening all warehouses in China for this spare-part or even manufacturing it from scratch as it seems that my tripod (Sirui  M-3204X)  is long out of its lifecycle.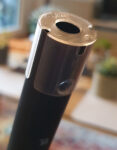 When the new lower tripod legs finally arrived I was surprised to the the new transparent shims, which were not made from two halves. They are very similar to the upper leg segment shims which were highlighted in Sirui-tripod-repairs – part 2 but seem to be made from a different material which seems to glide smoother.
Overall I'm still very happy with my Sirui tripod and the service, which has always been very professional and accommodating.