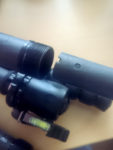 Remember the post Finally a new tripod from approx. 3 years ago?
Finally my Sirui M-3204X (nowadays N-3204X) tripod  has shown some wear and it was about time to get it repaired. Nothing actually broke, only the half shells – which are part of the sliding mechanism – in the upper segment were worn out and sliding out the segment was really hard or not possible at all. Sometimes the sement even came off, like shown in the picture on the right.
Actually I wanted to get it repaired already earlier but never was sure whether I would get it b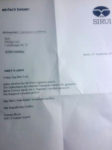 ack in time for planned photography trips. After I returned from the Faroe Islands a bit more than a week ago I knew that I can spare the tripod for a while because no other photography trips were planned.
What can I say, I sent the tripod in for service and received it back within 4 days only! Fully repaired and covered by the warranty (which is 6 years) coming with a nice letter stating what has been exchanged and repaired. Wow, when I received it back I couldn't believe that it took not even a week. I'm impressed Sirui! This makes me confident to keep recommending Sirui tripods to other people. The price / value ratio is amazing!