Social Media B/W Challenge Result
Some weeks ago another one of these social network phenomena started out where you are being nominated and supposed to do something once or the course of several days, a challenge. I'm speaking of the 5 day b/w challenge where a photographer is supposed to post 5 b/w shots on 5 days in a row while nominating a new (befriended) photographer to to the same on each day. Actually I hoped that nobody will nominate me, because b/w photography is something I'm weak at, also I usually struggle to choose appropriate images for b/w processing. While noticing all the b/w works which has been posted due to this challenge I already thought that nobody will nominate me, but in the end I got nominated on facebook, from somebody I'd not expected to.
I haven't done many b/w photos lately, but I was in the mood of processing some of my (normal) Dubai Shots from 2012 and 2013 in an extreme b/w fashion. Why is that? Recently I discovered the book project Dreaming of Dubai and after looking at all these nice pictures I instantly felt that desire to book another flight to experience this surreal place again.
It's not like that this rather unauthentic and posh world is my thing, but still, that place attracts me a lot, because of the superlatives in modern architecture which simply creates a surreal world for me.
So I processed some of my Dubai shots 😉
The first one is a view over the the "Defence Roundabout", the biggest crossing on Sheikh Zayed Road, intersecting Financial Centre Road.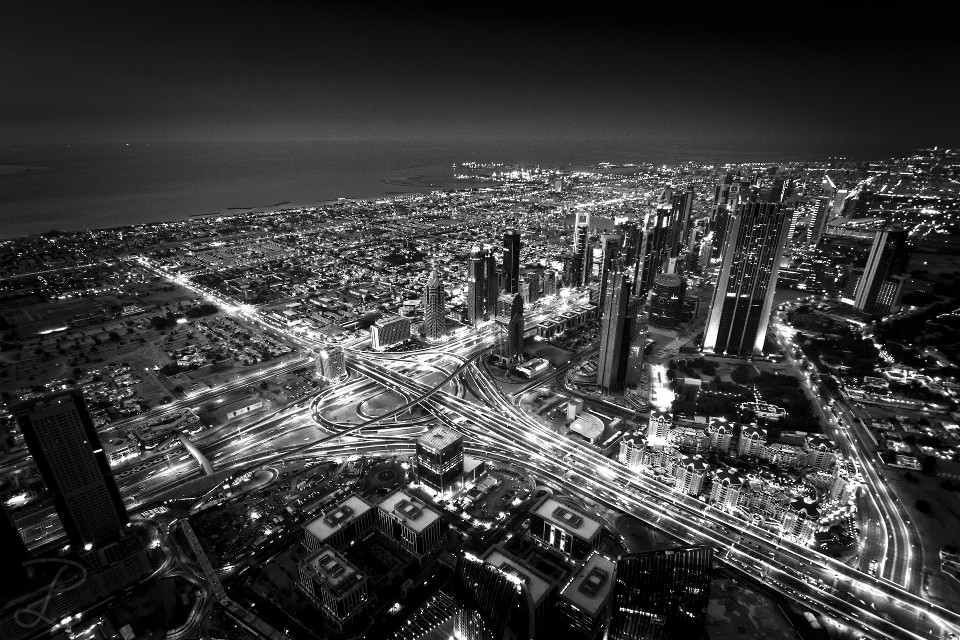 The next picture shows the dynamics of a big crowd of tourists while enjoying the Dubai Mall Dancing Fountain in front of the majestic Burj Khalifa.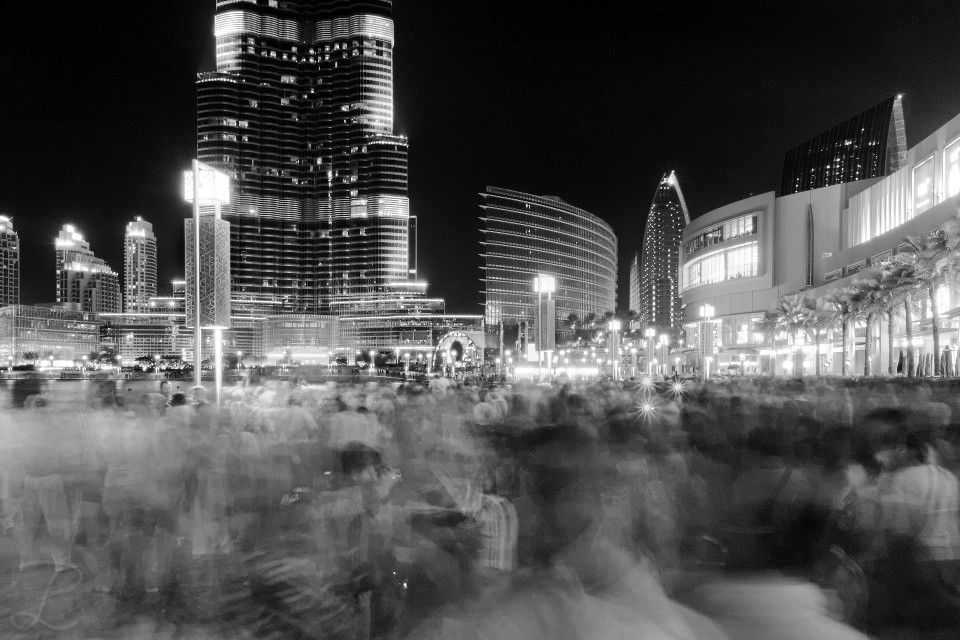 One of the most memorable memories of Dubai was the desert surrounding it. On my first trip I went on a dune bashing adventure which was close to my best roller-coaster experiences. On my second trip I went to the desert again to explore and try to portray it. When you come from a Central European country (in my case Germany) and if you have never experienced an arid landscape it's an incredible feeling to get lost in a desert.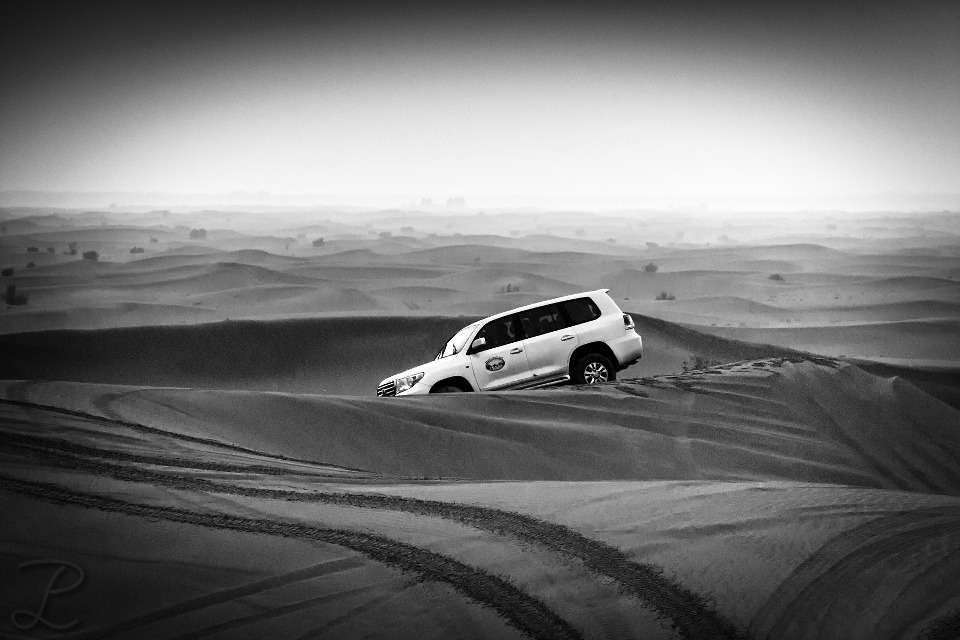 This one technically is not from Dubai, but it was part of my last visit to Dubai / the United Arabic Emirates. The picture shows the Sheikh Zayed Mosque in Abu Dhabi, which is the biggest mosque in the UAE and a very precious and impressive building.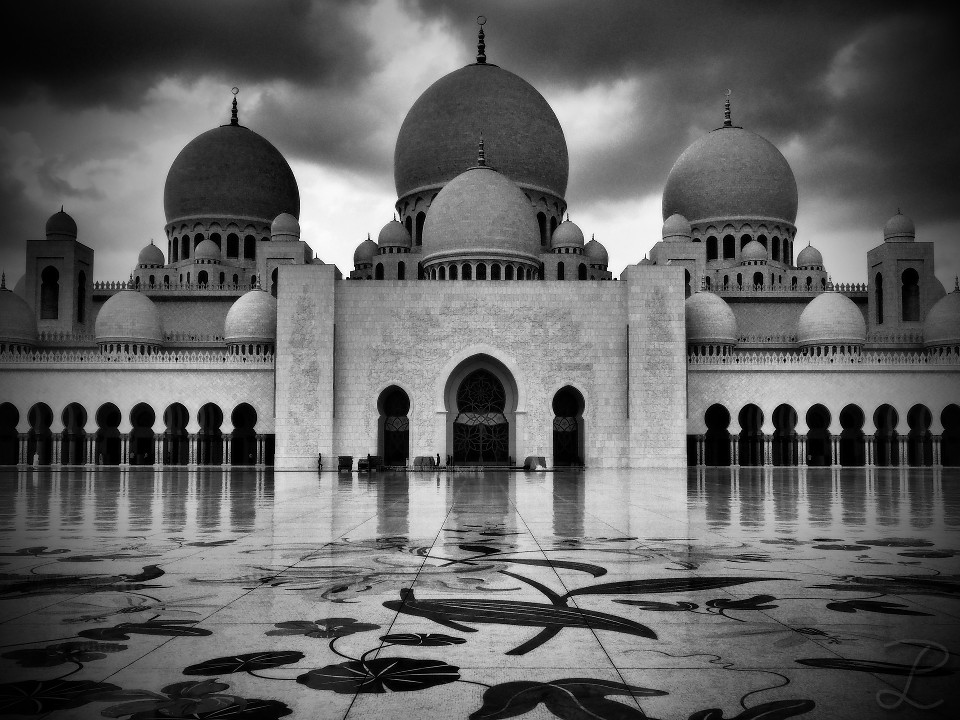 My last shot in this UAE / Dubai series – which I used to contribute to the 5 day b/w challenge – is again about architecture and modern urban jungles. I'm afraid I couldn't contribute more diverse themes.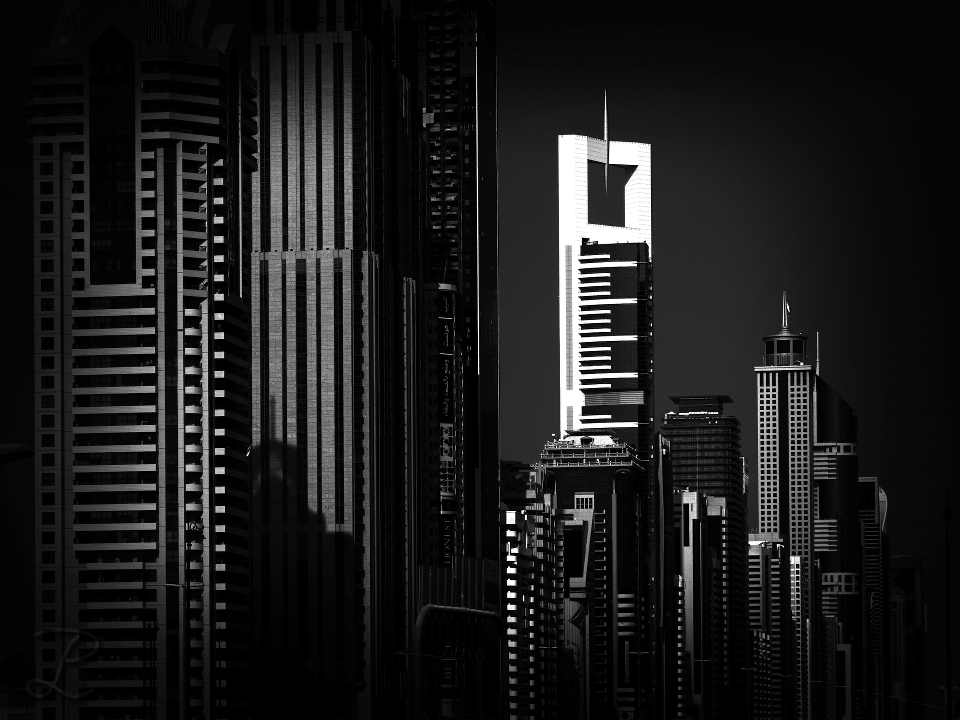 Well, after finishing the series I was glad that I've been nominated to get some motivation to do more b/w processing. I'm even proud of the outcome, I haven't ever thought of getting such lovely b/w shots after some long and serious b/w processing sessions. However I failed miserably in posting all 5 shots in 5 days, in the end it took me 7 days to finish the challenge, because I didn't edit all shots in advance and just post one shot each day.